Cooperations
xFace cooperates with lot companies and contributes to numerous collaborative projects.
Partners and customers
AMS. AMS is a global leader in the design and manufacture of high performance analog ICs.
[www.ams.com]
AVL. AVL is the world's largest privately owned and independent company for the development of power-train systems with internal combustion engines as well as instrumentation and test systems.
[www.avl.com]
FTW. The Telecommunications Research Center Vienna (FTW) researches next-generation communication systems. FTW and xFace cooperate to build a privacy-enhancing network monitoring device for Gigabit network.
[www.ftw.at]
IRCAM (UMR STMS IRCAM-CNRS-UPMC), Paris. IRCAM is one of the world's largest and leading interdisciplinary research centers in the field of music and technology.
[www.ircam.fr]
Joanneum Research. Joanneum Research is a professional innovation and technology provider at international level. It focuses on applied research and technology development, thus playing a key role in technology and knowledge transfer in Styria.
[www.joanneum.at]
Science Park Graz:
Incubator for startups
Science Park Graz. The Science Park is a start-up center in Graz | Austria. It supports young companies creating innovative products. Since December 2009, xFace is member of Science Park Graz.
[www.sciencepark.at].
TDK-EPC (EPCOS). TDK-EPC is a leading manufacturer of electronic components, modules and systems. TDK-EPC has emerged from the combination of the electronic components business of TDK and the EPCOS Group.
[www.tdk-electronics.tdk.com]
TU Graz IAIK. The Institute for Applied Information Processing and Communications (IAIK) is a major player in researching IT security - in hardware and in software.
[www.iaik.tugraz.at]
TU Graz LLL. Life-long Learning (LLL) at TU Graz organizes the RFID qualification network. xFace is a partner of this network.
[www.tugraz.at]
TU Graz SPSC. The Signal Processing and Speech Communication Laboratory (SPSC) researches signal processing algorithms for application in wireless communications, speech/audio communication, and telecommunications.
[www.spsc.tugraz.at]
Xerxes Electronics. Xerxes Electronics specializes on analog circuits in the RF and microwave spectrum.
[www.xerxes-tech.com]
Yagoba. Yagoba develops Java Card Applets, security primitives for smart card operating systems in C or assembly and customized verification tools for applications with security requirements.
[www.yagoba.com]
Projects
Comet SELECT (2011 – 2013). xFace supports the development of new techniques for detecting emergency situations within road tunnels by monitoring radio-frequency channels.
[www.ftw.at]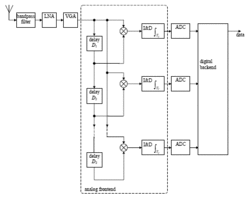 Fit-IT NOFDM: Non-orthogonal
frequency division multiplexing
Fit-IT NOFDM (2010 – 2013). xFace designs a digital frontend for a novel ultra-wide-band communication systems that allows energy efficient wireless transmission of high data rates over short distances.
[www.spsc.tugraz.at]
RFID qualification network (2012-2014). The RFID qualification network is a national funded project to foster the advanced position of the Graz area in RFID technology.
[www.tugraz.at]
Electronic-based systems qualification network (2020-2022). Electronic-based systems qualification network (EBS) gives xFace the opportunity to foster its management skills. EBS programme is a national funded project.
[www.tugraz.at]
Interested?
If you are interested in cooperations or collaborative research contact us: